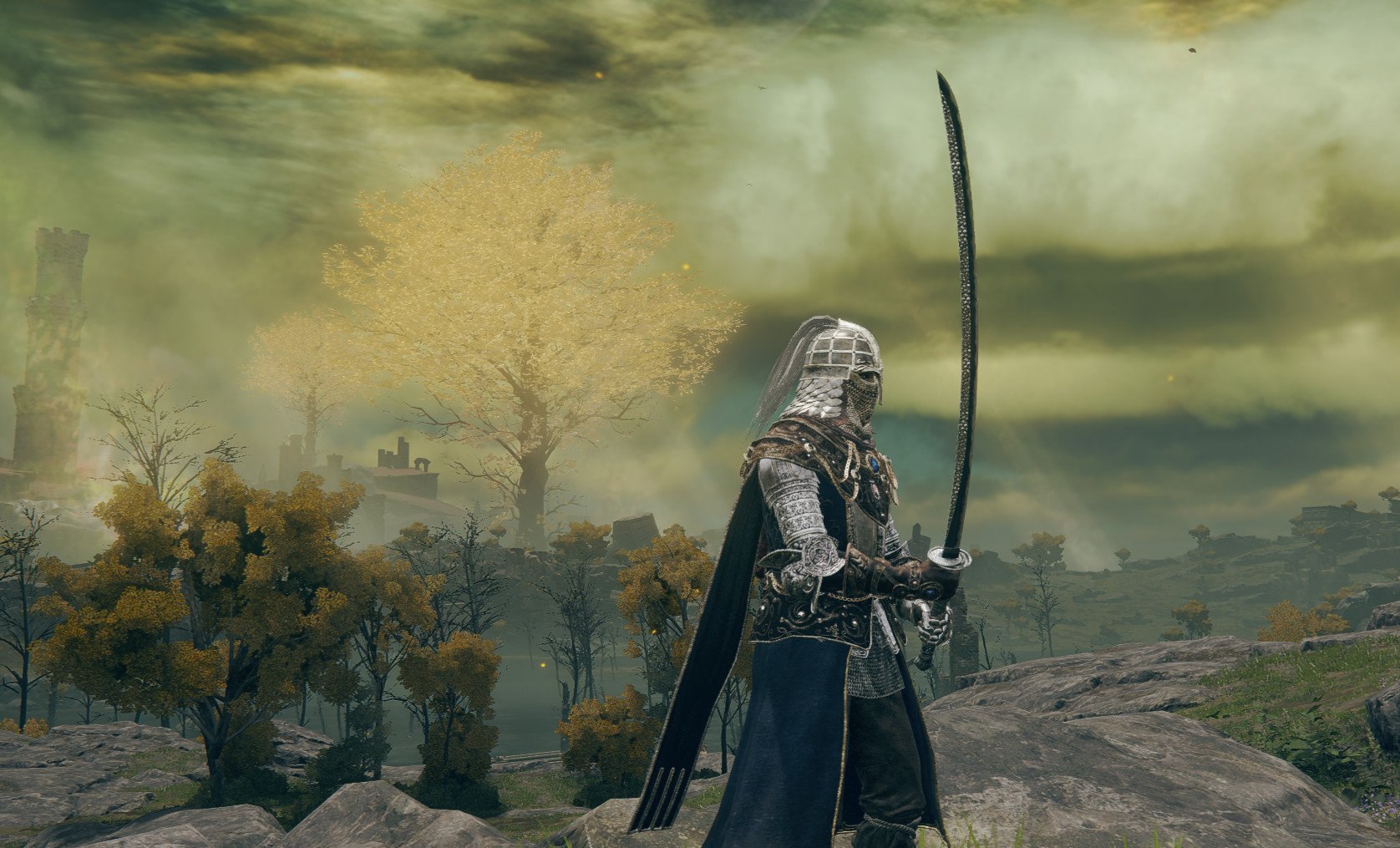 Looking for the best Elden Ring katana build? This guide will help you decide on all the factors necessary for creating an excellent katana build and efficiently using one of the most iconic weapons, the Japanese katana.
Key Takeaways:
This build is perfect for players looking for that Japanese samurai aesthetic and gameplay.

The best katanas for this build are the Rivers of Blood, Moonveil, Hand of Malenia, and Clinging Bone.

The best class is the Samurai class, as it makes the most sense for a katana build.

The best armor is the Black Knife set, Night's Cavalry set, White Mask, and the Land of Reeds Set.

The best talisman for this are the Winged Sword Insignia, Taker's Cameo, and the Ritual Sword Insignia.
Looking for the best Elden Ring katana build? This guide will help you decide on all the factors necessary for creating an excellent katana build and efficiently using one of the most iconic weapons, the Japanese katana.
Let's be honest here: most of us have once dreamt about playing as the ultimate Samurai in Elden Ring. While playing Sekiro might help with that itch, it still isn't the same as the aesthetic and feel of Elden Ring. 
This guide has the best katanas, class, armor, talisman, and stats to replicate the Samurai aesthetic. Some might only be for looks and roleplay purposes, while others have actual purposes, so mix and match as you see fit.
Best Katanas
The Katana is an iconic Japanese weapon with a history deeply rooted in the samurai era of Japan. Although katanas come in various styles, sizes, and weights, they are usually characterized by their lightweight and the long reach of the blade. Here are some of the best katanas available in Elden Ring.
Rivers Of Blood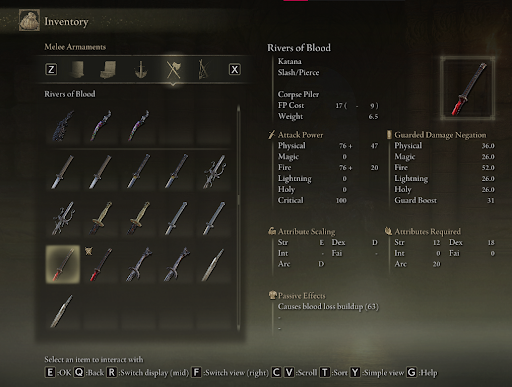 The Rivers Of Blood is one of the best, if not the best, katana in Elden Ring. It scales with strength, dexterity, and arcane.
In addition, it does slash and pierce damage. Moreover, it is perfect for mid-range fights and can deal a lot of damage really quickly. It also has a unique skill called the Corse Piler, which can slash multiple times and deal a lot of physical and fire damage with bleed. Furthermore, the red blood accent on the edge of the blade does look really good as well.
Moonveil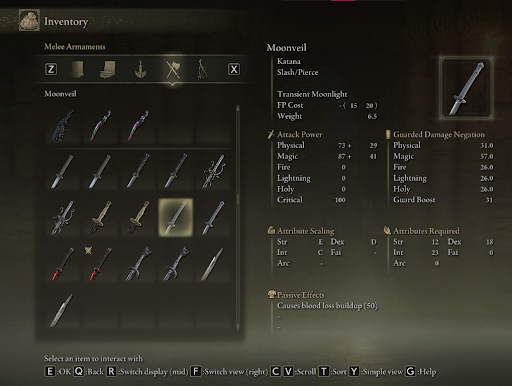 The Moonveil is a really strong weapon. Veteran Souls players will recognize a similar weapon called the Moonlight greatsword. This is basically that but in katana form. It scales with dexterity and intelligence. Moreover, it is quite good for close-range combat. Furthermore, it has a really good weapon skill, the Transient Moonlight.
This skill causes you to sheathe your weapon, after which you draw the katana, firing off a wave of light, cutting anything in its path. This results in this katana dealing a lot of damage. Not only that, it also inflicts bleed damage, although it is not a lot. Some of the best Elden Ring Katana Builds use this weapon.
Hand Of Malenia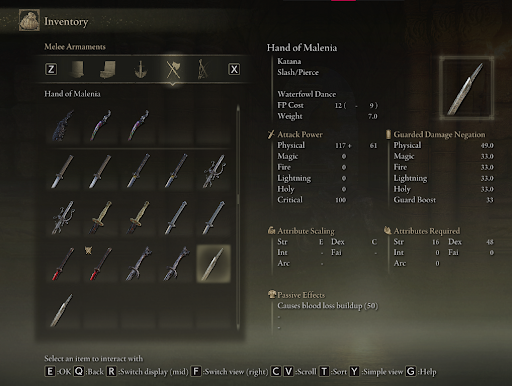 The Hand Of Malenia is a really iconic weapon as it was wielded by none other than Malenia, the Blade of Miquella herself. This katana scales with strength and dexterity. Moreover, it can deal a lot of physical damage.
Furthermore, this is quite a fitting weapon if you are looking to roleplay as the mysterious and overpowered samurai, as this blade signifies a significant milestone in beating Malenia. The weapon skill of this katana is the Waterfowl Dance, which makes you dash forward in a flurry and unleash a slashing combo.
Clinging Bone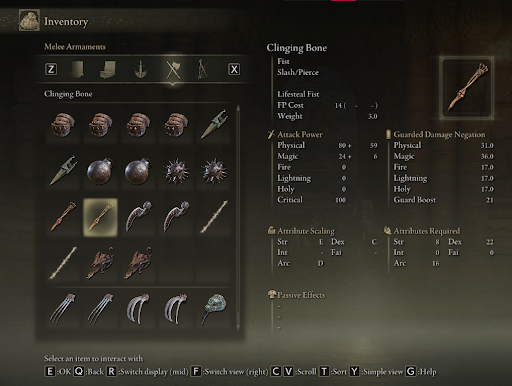 The Clinging Bone is a weird entry on this list as this is not a katana. In fact, it is a fist, yes, a fist. Although this may seem like a joke entry but, hear me out; it is actually quite good. It scales primarily with dexterity. This weapon's main selling point is its skill called the Lifesteal Fist.
This weapon skill makes you perform a controlled slow punch, which deals a lot of damage to your enemy and heals you for 30% of your max HP. This lifesteal ability makes it one of the best weapons for this build, as it also increases your sustainability during a fight. Plus, it looks quite menacing, cutting your enemies with a literal skeletal arm.
Best Class: Samurai
Keeping in mind that we are going for a katana build, no other class suits this better than the Samurai class, as the katana was the weapon of choice for any samurai. It is one of the ten class options you get when creating your character. The Samurai class has high dexterity, medium strength, endurance, mind, and vigor.
You start off with level 9, a Uchigatana katana, Longbow, arrows, fire arrows, and the Red Thorn Roundshield, which is quite a good set of equipment. The starting armor includes the Land of Reeds, which is actually one of the recommended armor sets for this type of build. Moreover, the starting items include the Memory of Grace and your choice of a Keepsake.
The Samurai is overall an amazing class and can hold its own in battle. It is a fast and agile class with the ability to do both close and ranged attacks from the start. Moreover, whether you are a new player or a veteran looking for a balanced and versatile combat experience, the Samurai class is recommended.
Best Armor
What armor you pick in Elden Ring is one of the most important aspects of a build. Although it may seem like it, it is not as easy as picking whatever has the highest resistance or protection, as the weight matters as well. What is the point of having a lot of protection when you are too heavy to move around while fighting?
Black Knife Set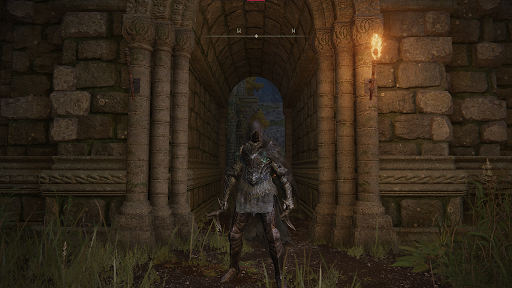 The Black Knife set is not only a good-looking armor set, but it is also a really good armor set. It is a special heavy armor worn by assassins, giving it the stealth enhancement. With this armor, the sound of your footsteps is muffled; however, if you want to keep this effect, you cannot remove the cape as that gives the effect. Moreover, this also applies to jumping and rolling.
It has a high physical and holy damage negation, immunity, and robustness. Moreover, the armor set has a high poise value so that you won't be easily staggered by the enemy.
The Black Knife is a good-looking armor set that provides adequate protection with not too much weight, so this is the best armor for a katana build in Elden Ring. This armor set can be found on a corpse under an archway behind Ordina, Liturgical Town in Consecrated Snowfield.
Night's Cavalry Set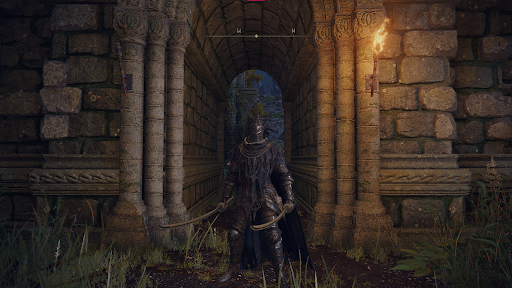 The Night's Cavalry armor set is one of the coolest armor sets in Elden Ring. It really gives that bringer of death and Grim Reaper vibe. It is a pitch-black armor painted with dried blood. It was worn by the Night's Cavalry, who rode the funeral steeds.
This armor set has quite high resistance and damage negation, however, it is not the best, as it is much heavier than the Black Knife armor set.
To obtain the armor, you will have to go to the Inner Consecrated Snowfield. There, you will see in the southwest a carriage being pulled by two trolls and guarded by two of the Night's Cavalry. To gain the armor, you will have to kill both the escorts.
White Mask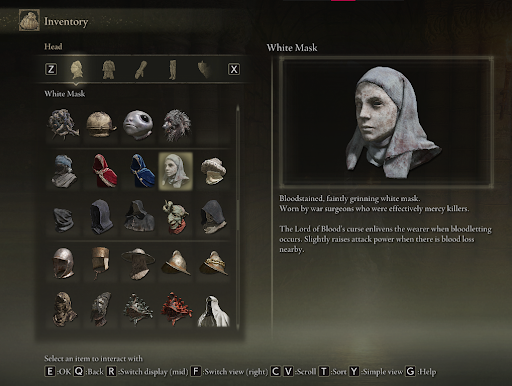 This entry is a bit different from the others here as they all are full armor sets, while this is only one piece of a set. However, this mask is good enough to be mentioned here. This White Mask is the helm from the War Surgeon armor set.
It is a really good piece of armor with good defensive abilities. The mask, once worn, increases your attack power by 10% for seconds when blood loss has been inflicted on you or the enemy.
To obtain the White Mask, go to the blood-filled lake northwest of the Palace Approach Ledge Road in the Mohgwyn Dynasty Mausoleum area. There, you will find three Nameless White Mask invaders. The White Mask will be dropped by one of them.
However, you will have to be careful as you can be locked out of this armor piece. Kill the invader before killing the Lord of Blood, Mohg, as killing Mohg before will lock you out.
Land Of Reeds Set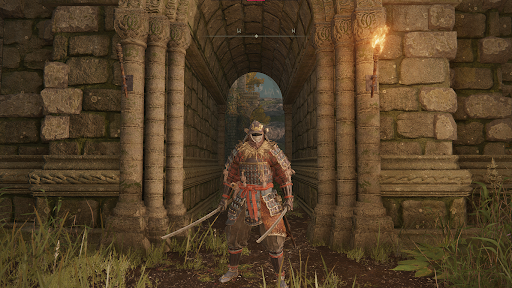 The Land of Reeds armor set is the one that you receive when you start out as a Samurai class, which is exactly why this is so good. If you are going for a katana build, this armor set really completes the samurai vibe. 
However, the looks aren't everything. This armor set also has really good amounts of resistance and damage negation while keeping the weight pretty low. This armor set is the default when starting out your journey to create the best Elden Ring Katana Build and provides a pretty solid template, all things considered.
Best Talisman
Talismans are one of the most important items in Elden Ring, as they can provide various benefits to the player's character. Talismans are accessories that can be equipped in one of the two talisman slots, and they grant passive effects such as increasing stats, enhancing attacks, boosting defenses, restoring health or focus, and more. 
However, not all talismans are good, as some can have negative effects on the player. Nonetheless, they are a vital part of Elden Ring's gameplay and greatly enhance your performance and survival.
Winged Sword Insignia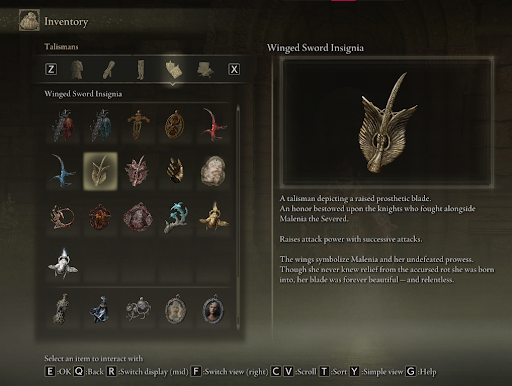 | Weight | 1.4 |
| --- | --- |
| | Raises attack power with successive attacks (3%,5%,10%) |
The Winged Sword Insignia is a good option for a talisman as it increases the attack power with successive attacks. This really benefits you when doing fast successive attacks as you would be dealing more damage.
Moreover, this also works really well with the katana build, as this build revolves around agility and strength.
Taker's Cameo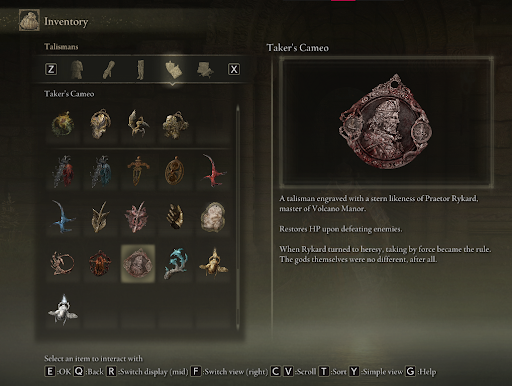 | Weight | 1.0 |
| --- | --- |
| | Restores 3% + 30 HP upon defeating enemies |
This talisman really comes in handy when fighting large groups of enemies. It is easy to get cornered or overwhelmed when faced with multiple enemies in a small space, and you can easily get defeated. With this talisman, you will heal with each kill, so it acts as a support.
Ritual Sword Talisman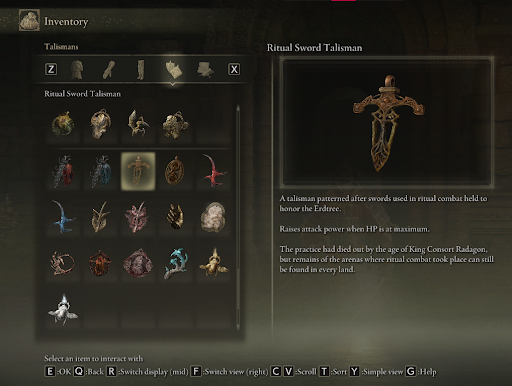 | Weight | 0.9 |
| --- | --- |
| | Raises attack power by 10% when HP is at maximum |
This is just a good talisman in general. As your attack power increases by 10% when you have maximum HP, you can keep dealing more damage if you avoid getting hit. This fits in really well with the playstyle and agile movement of the samurai and katana build.