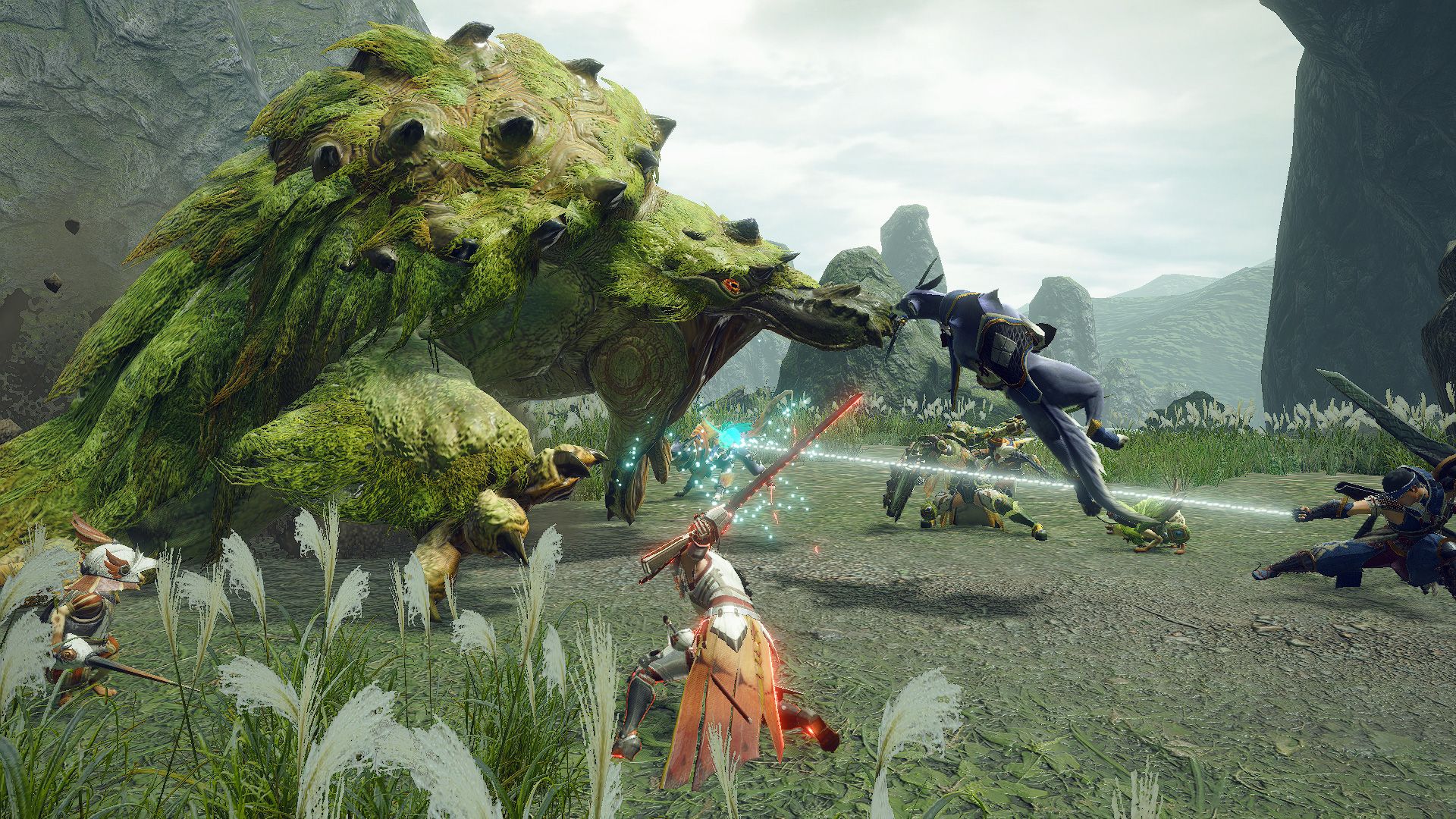 With Monster Hunter Rise being released on the Switch earlier this year, PC fans of the franchise have been asking when, if ever, they'll get their hands on the latest installment. In this article, we will go over the expected release date, as well as what this new iteration will bring to the table.
Monster Hunter Rise PC release date
There's good news and bad news. The good news is a PC port has long been confirmed, the bad news is an expected early 2022 release. Considering the Switch release date was March 26, that's a long wait, with a fair few months left to go.
This expected date has since been confirmed as January 12 2022, so not too distant in the future.
For comparison, Monster Hunter World's gap between console and PC release dates was only around six months. Unsurprisingly, this has prompted a lot of curiosity regarding why that is. One argument is that an intended exclusivity deal is the main reason for the wait. Plenty of rumors have circulated online regarding Nintendo's supposed $2 million purchase of timed exclusivity, stemming from a ransomware attack and somewhat backed up by Rise having no current release date for consoles. That said, the details of this deal have changed several times, with the price decreasing incrementally from $15 million to $2 million. That alone seems worthy of a pinch of salt.
What is perhaps a more likely explanation is hardware limitations. Monster Hunter Rise was initially developed with the Switch in mind, in contrast to World which was intended for consoles, yet still released to PC with plenty of issues. Given the huge specs gap between the Switch and PCs, it's understandable that Capcom will have a lot of work to do for a port. In all likelihood, they'll have to go over the entire game to meet the standards expected by PC fans.
💥 Don't Miss These Latest Deals 💥
KOORUI 27 Inch QHD Gaming Monitor
27 inch QHD (2560*1440) display with the DCI-P3 90% wide color gamut brings what you're watching to life in over 16.7M colors
ASUS TUF Gaming NVIDIA GeForce RTX 3070 Ti OC Edition Graphics Card
Nvidia ampere streaming multiprocessors
2nd generation rt cores:
3rd generation tensor cores
Razer Blade 15 Gaming Laptop: NVIDIA GeForce RTX 3070
NVIDIA GeForce RTX 3070 Ti GPU
12th Gen Intel Core i7 14-Core CPU
Next-Gen Vapor Chamber Cooling
Monster Hunter Rise's setting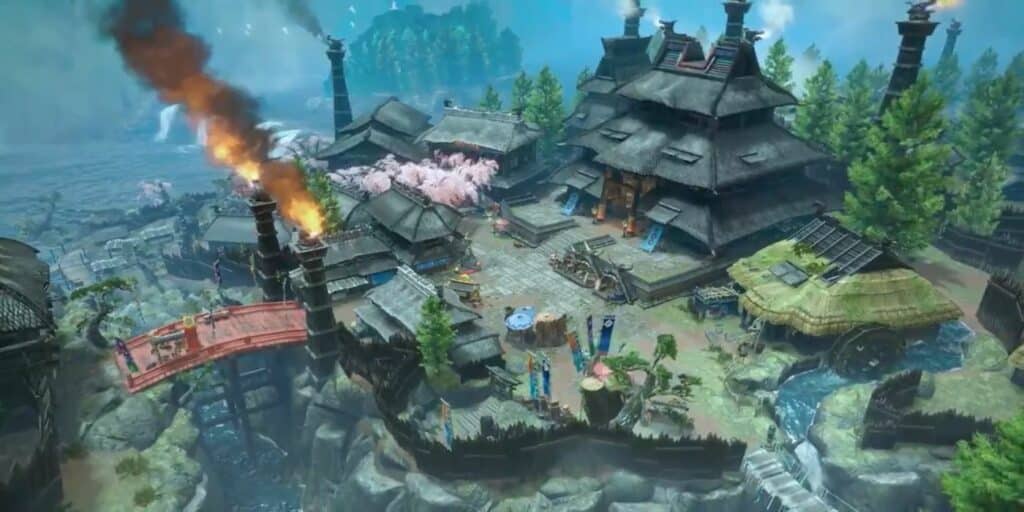 Capcom has adopted a more traditional Japanese aesthetic compared to World, which had a more Western feel. The game takes place in Kamura village, one that nearly met its end at the claws of a freak phenomenon known as the Rampage. With signs of a new Rampage clear to see, the villagers have been shoring up resources, building defenses, and of course, recruiting hunters.
You play as the newest recruit to Kamura's troop of hunters. As with the preceding installments, it will be your job to rise through the ranks to become a master hunter, one capable of stamping out the threat of the Rampage once and for all.
Monster Hunter Rise's gameplay and new features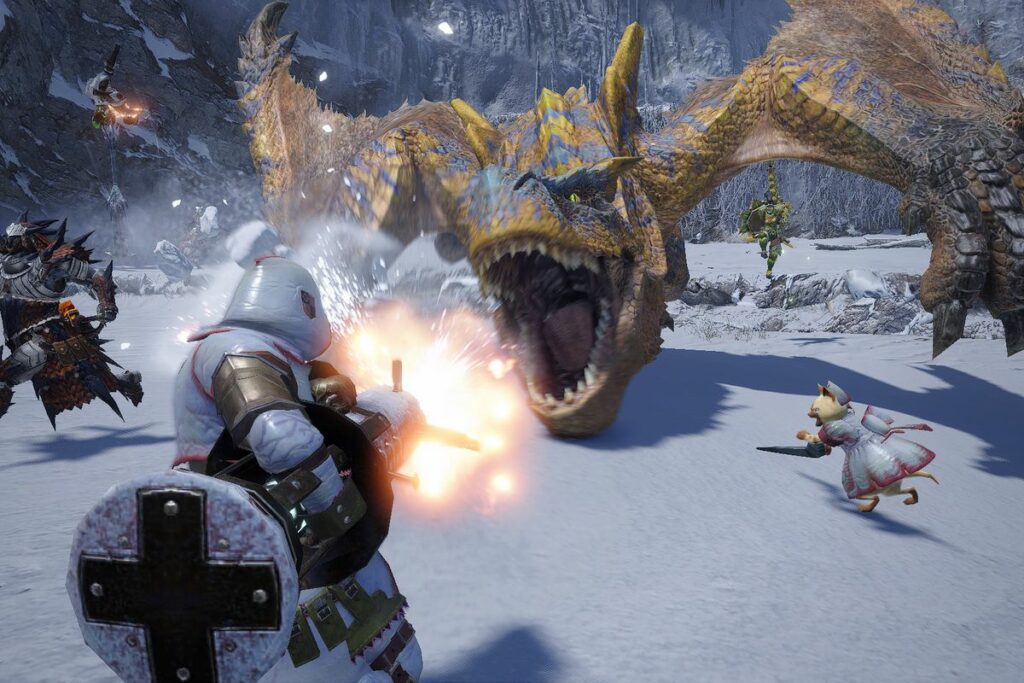 Existing fans of Monster Hunter will be more than at home in Rise. You will accept quests to hunt monsters of steadily increasing difficulty, with every new quarry unlocking new gear for you to craft with the fruits of your hunt. How you go about your hunts will be up to you. There are 14 weapons to choose from, a plethora of armors with various perks, stat-boosting potions, and utility items. How your hunts play out will depend on how well you prepare.
Your hunts will take place on huge maps punctuated by beautiful natural features and impressive architecture. You'll have plenty to explore, or get lost trying to, as you seek out your prey. This sounds all well and good, but it isn't anything we haven't seen before. So, how does Rise freshen up what we know and love?
The Wirebug
This little critter is Rise's answer to the Clutch Claw. It gives the player more mobility options, being used as a grapple, allowing for wall runs, and even has utility in combat. The Wirebug will enable you to evade incoming attacks or be used to deliver special attacks of your own. Alternatively, you could use it to perform a Wyvern Ride, another of Rise's new features. Keep in mind that the Wirebug has a cooldown though, or you'll end up in an awkward game of chicken with a hungry monster.
Wyvern Riding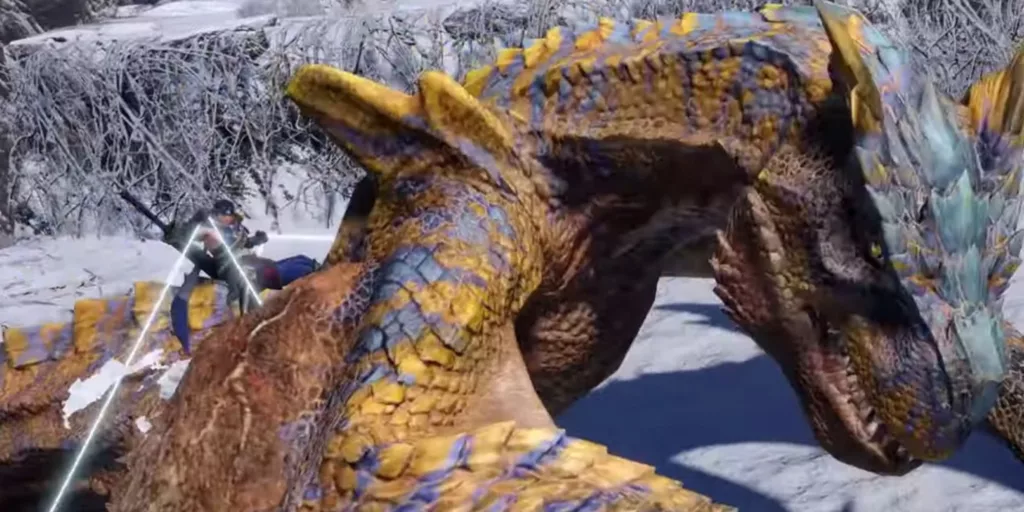 Rise has replaced mounting with something much more devastating. By using your Wirebug, you will be able to commandeer a monster and ride it into battle, making tough hunts much easier if you're having trouble. You can't ride them forever though. Once you've mounted up, you'll have a few seconds to decide what to do until the monster breaks free. If there are other monsters nearby, you can extend this timer by attacking them.
For those that enjoyed launching monsters into one another, don't worry. Capcom has kept that feature in Rise, even allowing you to launch your unfortunate steed into obstacles several times before falling.
Additional buddies
Accompanying the traditional Palico are the Palamute and Cohoot. Palamutes are particularly useful in combat, as they can provide heals, act as distractions, or simply attack monsters. They're also pretty fast, making traversing Rise's huge maps much more convenient.
Cahoots, on the other hand, are more of a pet with utility than a companion. They are used to scout out monsters at the start of your hunts, collect items in their nest for you, and enable you to send join requests. In short, they are the SOS flare from World with a bit more use.
Classic monsters and new additions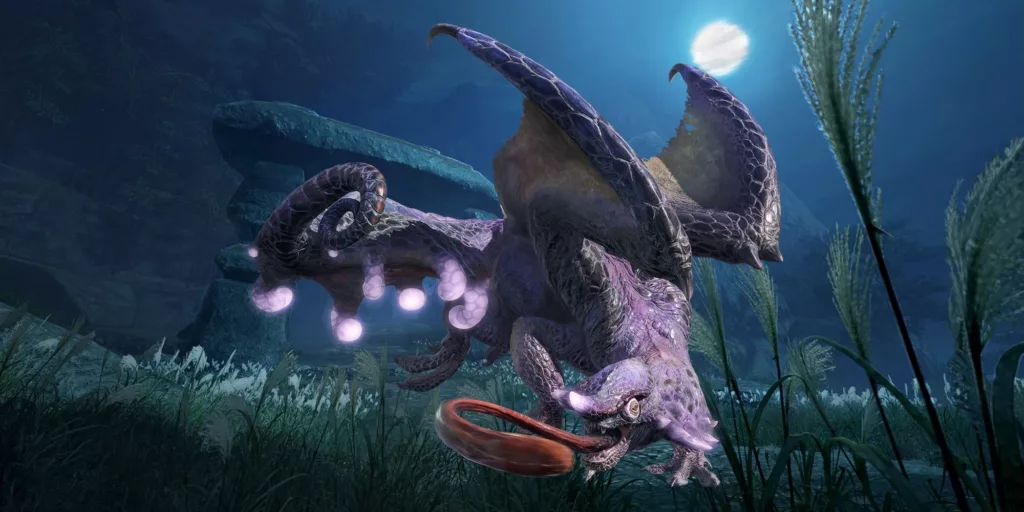 The new features are nice to have, but it's the monsters we're all interested in. Many fan favorites are making an appearance, like Mizutsune, Zinogre, and Nargacuga to name a few. Added to this roster are a load of new monsters, fitting right into the traditional Japanese setting. They look to be heavily inspired by Japanese myth and folklore, though what these are will be for you to find out.
The Rampage
In addition to new monsters to fight, Rise comes with a new mortal danger to face – the Rampage. We've mentioned it and its destructive capability before, which comes from the variety of monsters in its ranks. As you might have guessed, it is a huge stampede, one that you'll need to face.
The Rampage is implemented into Rise as a kind of tower defense, where you man the battlements of Kamura's defenses. You won't be alone though. Traps, turrets, and defenders will be at your command to help repel the onslaught of monsters. Once you kill the leader or run down the timer, you win.
Multiplayer
Multiplayer has always been a  big part of Monster Hunter, with this being just as true for Rise. Quests can be done solo or with friends depending on what category they fall into.
Village quests are for single-player, mostly containing the story and introducing mechanics. Multiplayer quests are called Hub quests, which scale depending on how many hunters are in your party.
As of now, there are no major multiplayer Sieges like in World. The lack of major hunts that strongly depend on teamwork and coordination may be a bit of a damper on the multiplayer experience, though we can probably expect one or two in the future.
System requirements
There are no confirmed hardware specs just yet, though Capcom will likely make an announcement close to the release date. As Rise will be ported to PC from the Switch, it's fair to say the specs will be less intensive than for Monster Hunter World: Iceborne, though the long wait could indicate a pleasant surprise. For now, use the Iceborne specs as a temporary benchmark.
System requirements for Rise have since been released. Minimum requirements to run the game are an i5-3470 or AMD FX-6100 processor, 8GB of RAM, and a GT 1030 or AMD Radeon RX 550 graphics card. The recommended specs are a little higher, though nothing mind-blowing. To get the most out of the graphics, you'll want an i5-4460 or an AMD FX-8300 processor, 8GB of RAM, and a GTX 1060 or AMD Radeon RX 570 graphics card. All in all, the port isn't going to strain your rig any more than World did. If you can run World, you'll be good to go.
The future of Monster Hunter Rise
Monster Hunter is well known for its title updates, which add a few new monsters or events to the game. This will be true for Rise also, with a couple of such updates already implemented and others in the works. Paid DLC will also likely make an appearance, hopefully in the form of major expansions like Iceborne. To what extent Monster Hunter Rise will evolve over its lifetime remains to be seen, though we can assuredly expect a thrilling series of additions and improvements, similar to the ones that have made World the widely adored game it is today.