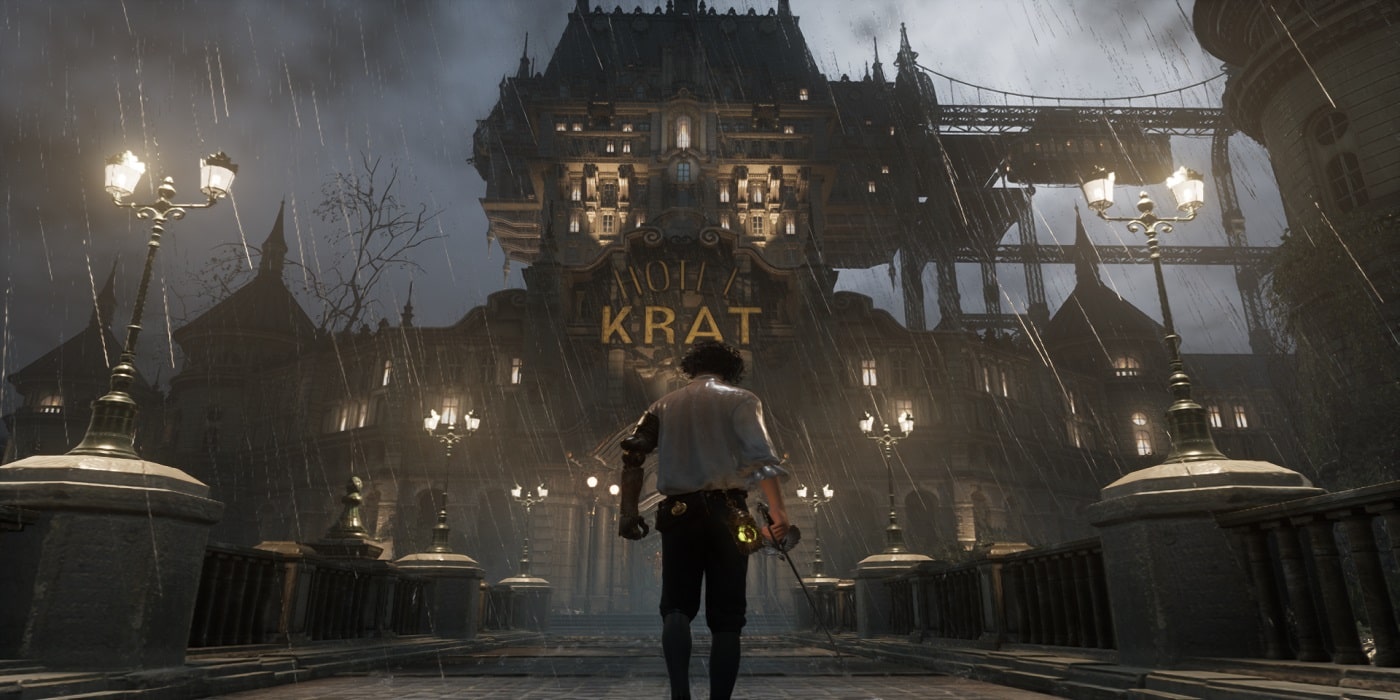 So, what are the best weapons in Lies of P? Well, we have the top 10 picks from the entire game for you. These will be helpful throughout your entire playthrough, and some of these get better in NG+.
We picked out the best weapons for you while keeping in mind that there are people of different build varieties. With that in mind, this list is compiled with each type of build (excluding Advance, which is pretty niche among players to begin with).
Key Takeaways:
Proof of Humanity – Quality: This unique weapon represents your transformation into a new type of human and offers critical rate buffs and damage-boosting potential.

Trident of the Covenant – Technique: Obtained by defeating a corrupted religious leader, it provides speed, reach, and innate critical rate.

Puppet Ripper – Technique: A stylish weapon with long-range attacks that can go through terrain, featuring powerful Fable Arts.

Live Puppet's Axe + Krat Police Baton – Motivity: Suited for strength-based builds, combining two parts with a high physical attack.

Two Dragons Sword – Technique: Known for its parrying abilities and mobility, it offers versatile Fable Arts.

Holy Sword of the Ark – Motivity: Combines a Greatsword and Greatspear, providing versatility and unique Fable Arts.

Golden Lie – Quality: Earned by telling lies and completing actions, it features a Fable Art for boss staggering.

Noblesse Oblige – Motivity: A strength-based weapon for Ergo farming with unique Fable Arts.

Dancer's Curved Sword + Booster Glaive – Technique: Combines a fast, long-range weapon with rocket-like abilities and versatile Fable Arts.

Acidic Crystal Spear – Advance: The only Advance weapon, it inflicts Corruption with Fable Arts enhancing status effects.
1. Proof of Humanity: Quality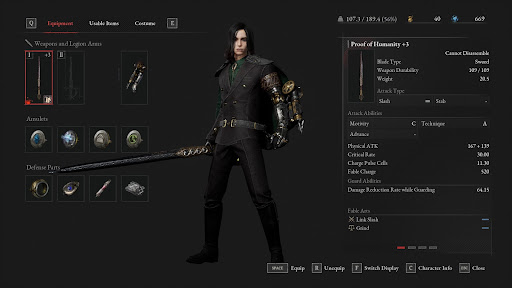 A special weapon granted to you for proving your worth and transforming your soul into that of a new type of human. This weapon marks your humanity and reminds you that you are more than meets the eye.
The blade is a double-edged sword resembling scissors to mimic how puppets dance on strings, but humans cut their strings to live freely, hence the scissor motif and the name. You can get your hands on this weapon by refusing to give your heart to Geppeto and defeating the Nameless Puppet. After that, transfigure his Ergo by talking to Alidoro/Hugo.
The Proof of Humanity can not be disassembled and has two Fable Arts. The blade's Fable Art is called Link Slash; you can use this as a consecutive attack that has 3 charges. Each charge requires a Fable slot, so if you plan on using this weapon, I suggest investing in some P-Organ upgrades that increase your Fable.
However, the handle's Fable Art is unique since it is a buff rather than an attack. This increases the critical rate of your weapon by a whopping 40%. 
Pair this with the weapon's innate 30% and the 30% increase from using the Satisfaction Grindstone. A deadly combination emerges where you are dealing 75% more damage 100% of the time for around 30 seconds, which is usually enough time to get a good chunk of the boss's health pool down.
That 100% critical chance is why the Proof of Humanity is one of the Lies of P's Best Weapons and should be considered (even preferred) for your NG+ playthrough.
2. Trident of the Covenant: Technique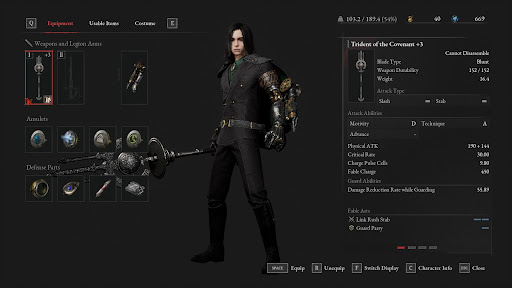 The trident is a symbol of power, authority, and divine influence. In many religions worldwide, we see tridents represented in the lights of these aspects. Hence, it is quite fitting that we obtain the Trident of the Covenant by defeating a corrupted religious leader in the Saint Frangelico Cathedral.
To get this weapon, you must defeat Falled Archbishop Andreus and get his Twisted Angel's Ergo to Alidoro/Hugo, who will transmute this weapon into the weapon.
The main draw for this weapon is the speed and reach you can get with the running and standing heavy attacks, including the charge attack. It also has some innate critical rate, which has quite a few builds around it with different P-Organ upgrades that enhance it.
The two Fable Arts are pretty simple to explain. The handle's Fable Art is a guard parry, which is the same as getting a parry but a little more tricky to time since you have more startup frames. Still, you can counterattack with a fierce strike if you get the timing down.
On the other hand, you have the blade's Fable Art, which is simply a two-hit combo that requires two Fable slots to fully execute. Nothing too unique or special, but it is faster than using your normal charge attack, so keep that in mind while staggering bosses.
Related Guide: Lies of P: How To Defeat The Parade Master
3. Puppet Ripper: Technique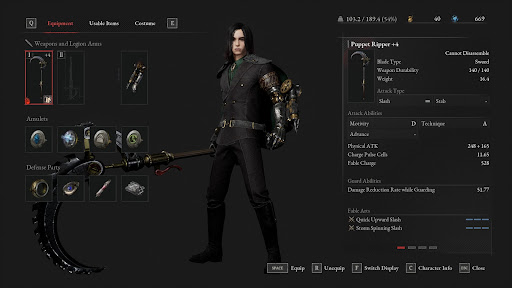 Scythes, once agricultural tools, are historically symbolic of death and renewal. They played crucial roles in food production and civilization development. Their enduring presence underscores their multifaceted significance in history.
It is an incredibly stylish weapon that has a beautiful move set. The attacks feel clean and sharp, the heavy attacks are weighty to give you a sense of power, and the charge attacks are insanely long-range. You can get this weapon by transmuting the Ergo of the Puppet King.
A helpful tip is to use this havey and charge attack to your advantage since the blade has a deceptively long range. It can also go through terrain and walls, which means you can hit enemies that are not even in your sight range. Really helpful if you wanted to chase the second Black Rabbit Brotherhood fight.
The weapon has two Fable Arts. The blade's Fable Art is really good, but it costs three Fable slots, which can be a hefty price if you don't invest in the P-Organ upgrades that add more. The art is called Quick Upward Slash and is precisely how you would imagine it. The best part is that it does crazy damage and can usually stagger enemies and bosses.
You also have the handle's Fable Art, which is called Storm Spinning Slash and creates a vortex with the blade while keeping you in the eye of the storm. It is excellent for dealing with large groups of enemies. Also, it causes normal stagger on those that survive the assault.
It is the weapon I used to complete my first playthrough since I am quite a fan of Scythe Class weapons in any game you may find. So I recommend this as one of the Lies of P Best Weapons you should pick up.
4. Live Puppet's Axe + Krat Police Baton: Motivity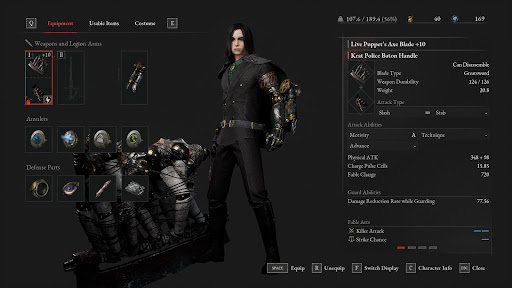 My first weapon combination, let me tell you, I'm really feeling this. If you are rocking a strength build and want some boss amulets instead of weapons, then this is where the party is at.
The weapon is composed of two parts. The blade and the handle which can be found in the Barren Swamp and are closest to the Barren Swamp Stargazer. You have to approach the guy shooting the giant shells at you.
You can find the handle early on before you get to the Scrapped Watchman fight. It's near the crying lady's side quest.
The blade's Fable Art is a simple, quick slash, while the handle's Fable Art enhances your next attack. It's an excellent weapon if you want to run a strength build and not use boss weapons.
Also Read: Lies Of P Complete Trophies Guide
5. Two Dragons Sword: Technique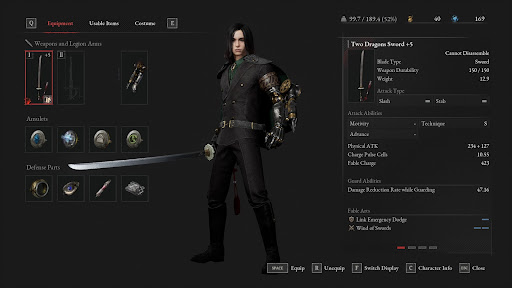 A favorite weapon amongst the Sekiro community. If you really want to play this game by parrying anything and everything, then this is the weapon for you. It can be obtained by defeating the Puppet-Devouring Green Monster and giving its Ergo to Alidoro/Hugo.
There are two main draws for this weapon. The first is mobility by simply attacking with the weapon, the second being its charge attack parry.
Now, if you want to upload a cool YouTube video where you absolutely destroy the boss, then you will most likely be using this weapon since the charge attack parry has a very generous parry window, even more so than your normal guard parry. The only thing u have to learn is the timings since it requires around a second to get the parry due to its long startup frames.
Once you get the parry, it will know out any enemies from their combos, and you will launch a counterattack and dash away from them. This also applies to bosses, meaning you can never worry about getting comboed by a boss if you can interrupt them with this charge attack parry.
The other really cool thing about this weapon is the Fable Arts. The handle's Fable Art is just a wave of energy you shoot, which does pretty mediocre damage and costs two Fable slots. 
The blade's Fable Art is called the emergency Link Dodge, which, if used correctly, gives you even more i-frames than your normal dodge when locked onto an enemy. You can also turn this into a combo by expending an additional two Fable slots for its continuation.
All these factors combined make the weapon a must-have for any run you do if you want to earn style points and feel in absolute control of any situation thrown at you.
Similar Guide: Hollow Knight: How To Find All The Charms (Complete Guide)
6. Holy Sword of the Ark: Motivity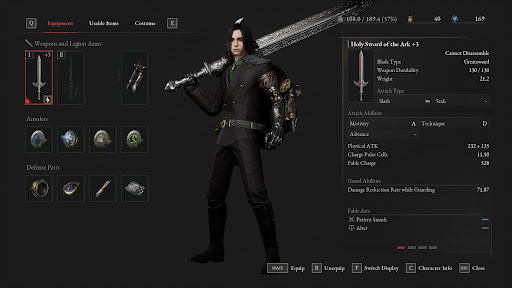 Do you like giant swords? Do you like trick weapons? Introducing the Holy Sword of the Ark. With this fine piece of engineering, you can have a Greatsword and a Greatspear in the same weapon, all for the low cost of one Fable slot.
You can get your hands on this weapon by defeating the King's Flame Fucoco and giving his King's Flame Ergo to Alidoro/Hugo.
The reason you would want to use this weapon is the appeal of having a trick weapon. You can go from swinging a greatsword to stabbing a great spear into the boss's hide in seconds.
The weapon has two Fable Arts. The handl's Fable Art costs only one Fable slot to use and is called Alter. This is what you will use to configure your weapon between forms. Each form also has a different blade Fable Art.
In greatsword form, the Fable Art is called Patient Smash, where you focus on Fable slots to unleash them all in a devastating attack.
Meanwhile, in the great spear form, you can utilize three Fable slots to do a five-hit combo that is actually faster than swinging the weapon normally. Something to keep in mind when looking for that boss stagger.
7. Golden Lie: Quality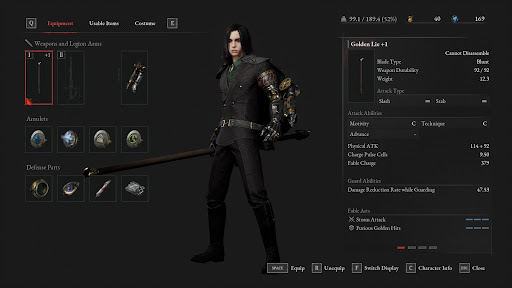 Similar to the Proof of Humanity, this weapon captures the essence of your transformation from a puppet into a new kind of human. However, this weapon is different since it more so represents the soul of Carlo.
You can get your hands on this weapon by telling a majority of lies throughout your playthrough. There are a dozen or so lies you can tell in your journey that will grant you "Humanity" alongside some side actions such as listening to records in real-time, praying in front of a statue, solving the Trinity Sanctums Riddles, etc.
Once you have attained enough humanity, you can get this weapon from the portrait found in Chapter 5 after defeating the Black Rabbit Brotherhood for the first time. The portrait can be found right before taking the elevator to the Golden Fruit Tree.
The Blades Fable Art is Storm Attack, where using it, you do a three-hit combo very quickly. It's really handy if you want that boss stagger.
You May Also Like: Dark Souls 3 Pyromancer Build Guide
8. Noblesse Oblige: Motivity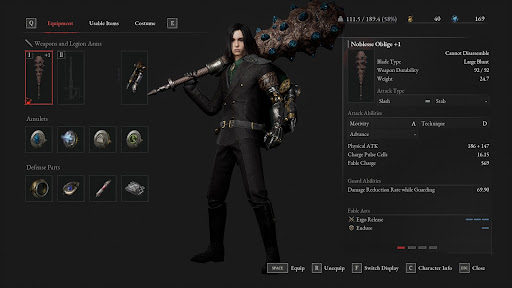 It is the weapon of choice for any aspiring baseball star or a true caveman. You can basically unga-bunga your way to victory with this weapon, even with its slowish speed. It primarily scales off Motivity and is a true strength chad build.
You can get this weapon by defeating Simon Manus, Awakened God, and giving his Fallen One's Ergo to Alidoro/Hugo.
The best reason to use this weapon is not for its strength scaling or anything of the like, even though it's strong. No, the best reason to use this is to farm Ergo since you get increased Ergo drops from this weapon. This is probably because the weapons Fable Art requires you to use a percent of your total Ergo.
Its blade Fable Art, is called Ergo Release, which is a giant ground slam that releases a shockwave that damages enemies. The handle's Fable Art is called Endure, allowing you to tank a hit that would otherwise knock you down or stagger you. It basically gives you hype armor, which is really useful since, in Lies of P, attacks don't give any to it.
It's a really useful weapon for Ergo farming in your first playthrough or NG+, so for that reason alone, I have included it in this Lies of P Best Weapons list.
9. Dancer's Curved Sword + Booster Glaive: Technique: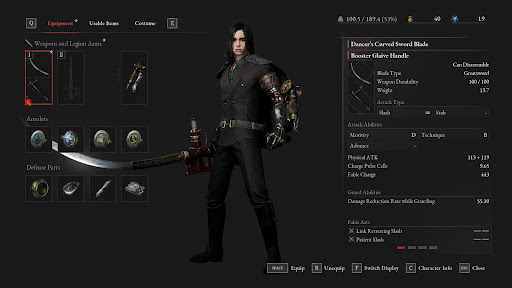 Want some fast attacks with decent range? Do you like rockets? The booster glaive handle attached to the dancer's curved sword allows for a fast and long-range weapon.
The weapon has pretty decent Fable Arts that are versatile enough for a good few situations. The blade's Fable Art is a simple, quick slash that creates space between you and the enemy after slashing them. You can also use an extra Fable slot to rush back at them and do another quick slash.
The handle's Fable Art is a slash that can be charged with Fable and gets stronger the longer it is held. However, the real attraction of this weapon is the charged heavy attack, which propels you forward towards the enemy, making gap closing really easy.
10. Acidic Crystal Spear: Advance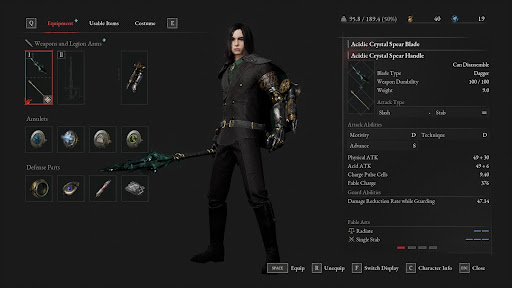 So we have the only advanced weapon on this list because it's literally that good. The spear inflicts Corruption onto your enemies, which is really effective against human enemies and bosses such as Luxasia the Complete.
The weapon's Fable Arts are nothing special, but they do supplement this weapon's true purpose. Quick pokes to get the enemy hit with the status effect.
The blade's Fable Art simply increases the damage of your acid for every strike you do. This is also good for increasing your acid damage once it applies to bosses and enemies.
The handle's Fable Art is Single Stab, a lunge forward where you launch yourself into the opponent from a distance.