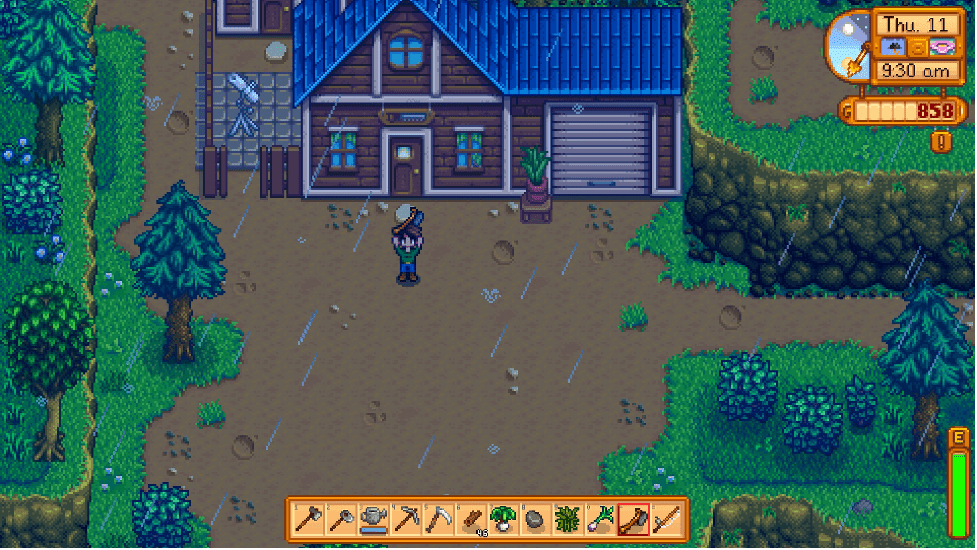 During your time in Stardew Valley, you'll receive letters from the locals every now and then. Sometimes, they'll send you gifts, while other times, they'll simply keep you updated with the latest goings on. However, the locals will occasionally write to you about a problem and ask you for help.
Early on in your career as Stardew Valley's local farmer, you will be contacted by Robin, the resident carpenter. She'll ask you to look for her axe, and provide a decent bounty of 250g if you find it. This reward can help you quite a lot in the early game, giving you a bit of extra cash to spark your farm into life. The only question is, where is Robin's axe?
💥 Don't Miss These Latest Deals 💥
KOORUI 27 Inch QHD Gaming Monitor
27 inch QHD (2560*1440) display with the DCI-P3 90% wide color gamut brings what you're watching to life in over 16.7M colors
ASUS TUF Gaming NVIDIA GeForce RTX 3070 Ti OC Edition Graphics Card
Nvidia ampere streaming multiprocessors
2nd generation rt cores:
3rd generation tensor cores
Razer Blade 15 Gaming Laptop: NVIDIA GeForce RTX 3070
NVIDIA GeForce RTX 3070 Ti GPU
12th Gen Intel Core i7 14-Core CPU
Next-Gen Vapor Chamber Cooling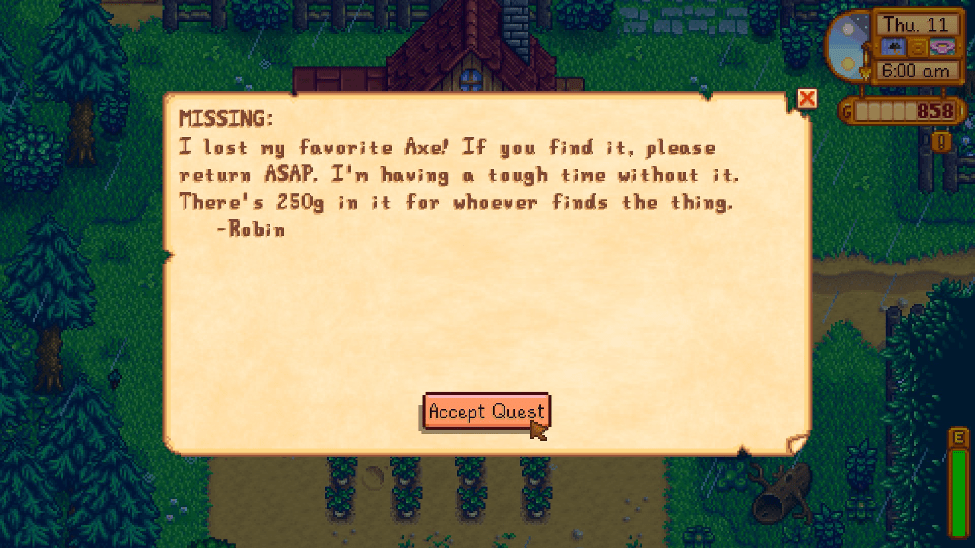 You will receive a letter from Robin on Spring 11, giving you some details on the lost axe. To begin the quest, all you need to do is open up your mailbox on that day, then click accept at the bottom of the letter. Once you've done so, you'll get a bit more information in your quest log. This tells you that Robin last used her axe south of Marnie's ranch, so you've already got a good idea of where to look. All that's left now is to venture into Cindersap Forest.
Looking for Robin's axe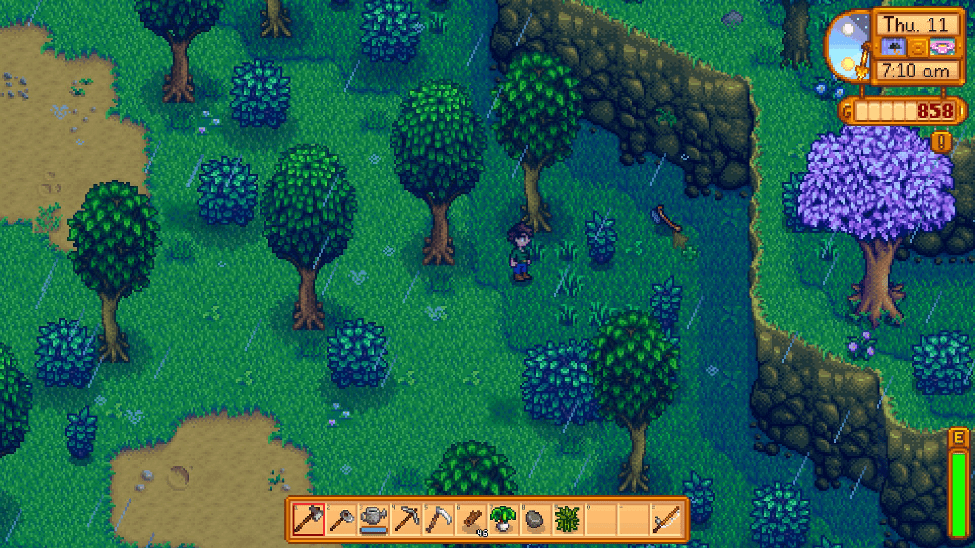 Although you've got a general area pinned down, south of Marnie's ranch is still a lot of ground to cover. It's pretty small too, so it's easy to miss if you aren't actively looking for it, especially if you aren't familiar with the area. This can mean killing a fair bit of time if you look for it aimlessly, but as the quest doesn't have a time limit, that isn't much of an issue.
If you'd prefer to find the axe with as little time wasted as possible, here's how to do exactly that. First, you should leave your farm from the southern exit. You'll enter Cindersap Forest from the north, right next to Marnie's ranch. From here, you can make your way south, as if you were heading over to the sewer pipe at the southern edge of the area.
Assuming you've walked straight south, you will reach the river, with a small wooden bridge over to a tiny island with a tree on it. Cross the second wooden bridge immediately south, then follow the cliff to the east. Robin's axe can be found tucked away in a corner, fairly close to the bottom of the area. As long as you keep close to the wall, you should see Robin's axe without issue.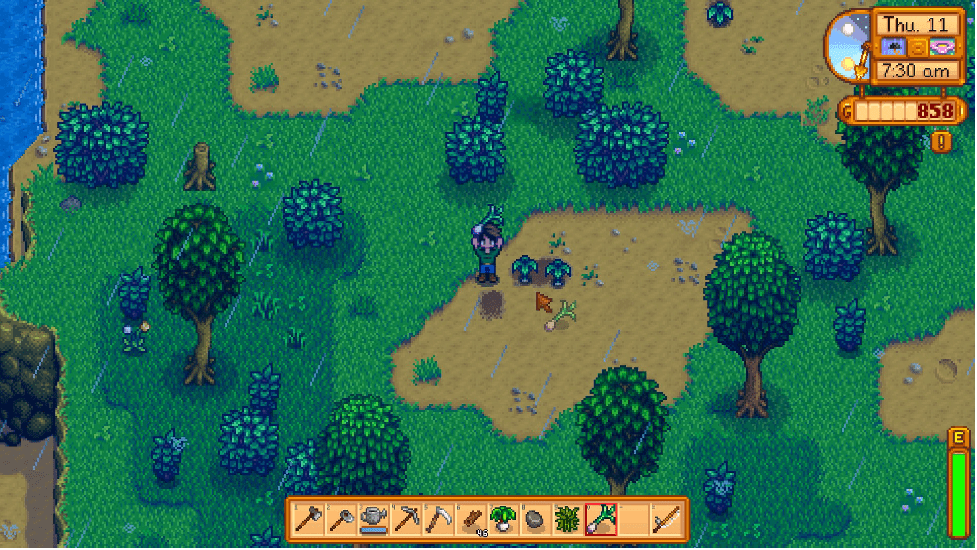 Although the quest for Robin's axe doesn't have a time limit, it's a good idea to set aside some time on the day you get it to complete it. You'll get 250g, which can be quite useful in the early game, acting as a windfall to help grow your farm. While you're down in Cindersap Forest fetching Robin's axe, you should also forage the spring onions that grow in the same area you can find the axe. These spring onions can either be sold off for additional funds, or given as gifts to help boost your relations with the villagers.
Doing so will help you start your farming career off on the right foot, giving you a good chunk of money early, and increasing your chances of receiving gifts from the residents of Pelican Town. You might also want to check out the rest of Cindersap Forest. The entrance to the Secret Woods can be found here, along with the Wizard's Tower and hat shop.
Turning in the quest for Robin's Axe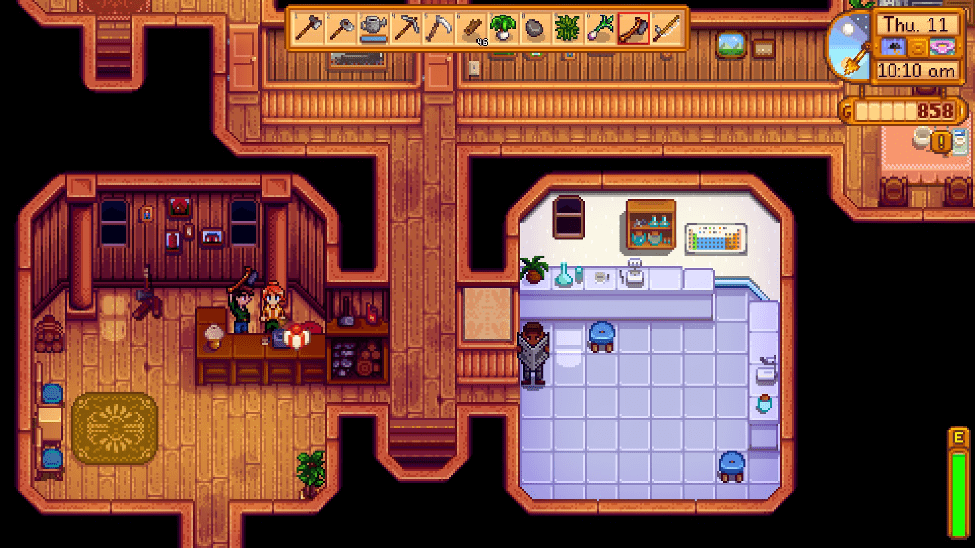 Once you've found Robin's axe, all that's left is to bring it to her. She might be a little hard to locate, depending on when you decide to do the quest. If you choose to do it immediately, which is the most convenient option, she will be at her home tending to her shop.
If you didn't know, you can find Robin's house up north by the mountain area, near the mines. You can find it by following the river in Pelican Town north, or by leaving your farm by the northern exit and following the path around to the right. If you leave it until late that same day, she will probably be somewhere around the mountain area until 9pm.
On other days, her schedule is a bit different. Robin heads into town in the morning on Tuesdays, heads to Pierre's shop at around 1pm, then goes home at around 6pm. On Fridays, she will leave her shop for the Stardrop Saloon at 4pm. You should time when you do this quest with Robin's schedule, making her easy to find and leaving you with most of the day to handle other tasks.
When you hand over Robin's axe, you'll get one friendship heart alongside 250g. This will help quite a lot in getting your friendship level with Robin up, which is a pretty good idea if you want steady supplies of wood for your farm. Robin also has a few other quests which can further help you improve your friendship, along with a couple of special orders that come later on in the game.