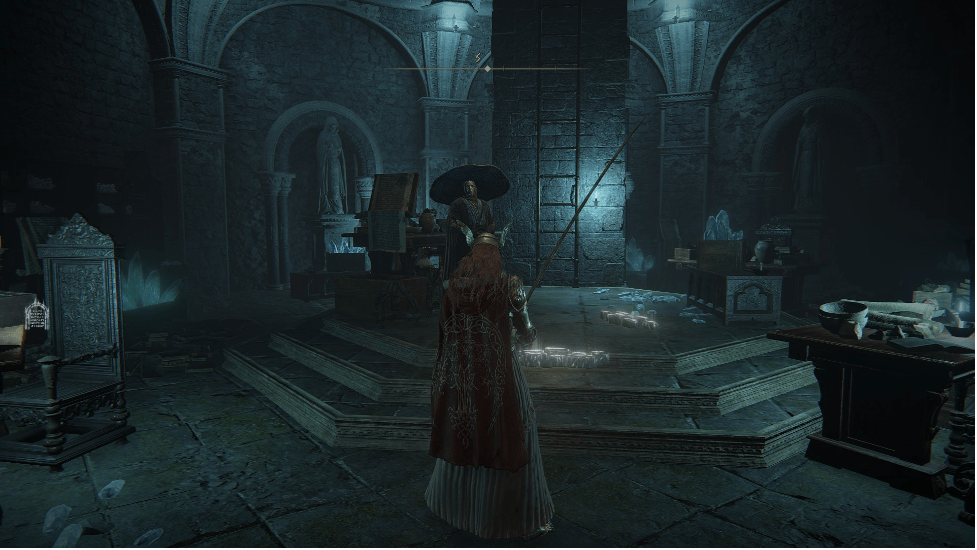 Elden Ring has a host of NPC questlines sprinkled throughout the Lands Between. While certainly interesting side stories, it's often difficult to figure out exactly how to work through them. Some, like Blaidd, like to abscond at some point during their story, being pretty tough to find thereafter. Others pose a dilemma, with the consequences of your choices being hard to predict at first glance. Seluvis falls more into the second category.
Fairly early on in his questline, Seluvis will offer you a potion, asking you to administer it to Nepheli Loux. You can decide whether or not to do so, but there is also a third, lesser-known option. I'll guide you through each of these options, show you what to do, and offer my view on which is the best.
💥 Don't Miss These Latest Deals 💥
KOORUI 27 Inch QHD Gaming Monitor
27 inch QHD (2560*1440) display with the DCI-P3 90% wide color gamut brings what you're watching to life in over 16.7M colors
ASUS TUF Gaming NVIDIA GeForce RTX 3070 Ti OC Edition Graphics Card
Nvidia ampere streaming multiprocessors
2nd generation rt cores:
3rd generation tensor cores
Razer Blade 15 Gaming Laptop: NVIDIA GeForce RTX 3070
NVIDIA GeForce RTX 3070 Ti GPU
12th Gen Intel Core i7 14-Core CPU
Next-Gen Vapor Chamber Cooling
Administering Seluvis' Potion to Nepheli Loux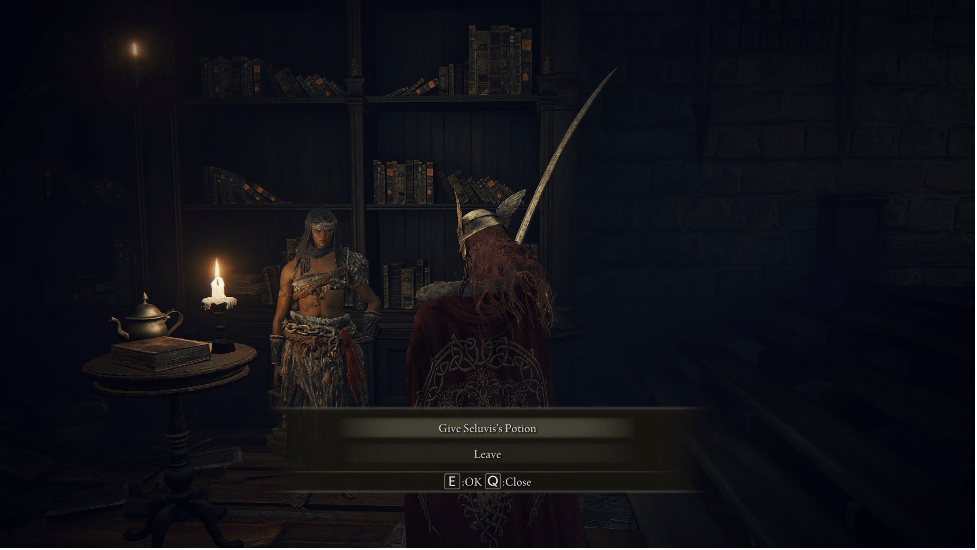 The first option is to comply with Seluvis. All you need to do is progress Nepheli's questline until she is in the Roundtable Hold, give her the potion, and rest at a Site of Grace. She will make her way over to Seluvis' laboratory, where she will become his puppet. This lab can be found in the ruins north of Seluvis' Rise. There is an illusory floor in the center of the ruins. Strike it to open up the passage, then head down. Inside is another illusory wall, right at the end of the main chamber. You'll need to access this lab if you want the puppets that Seluvis can offer you later on in his quest.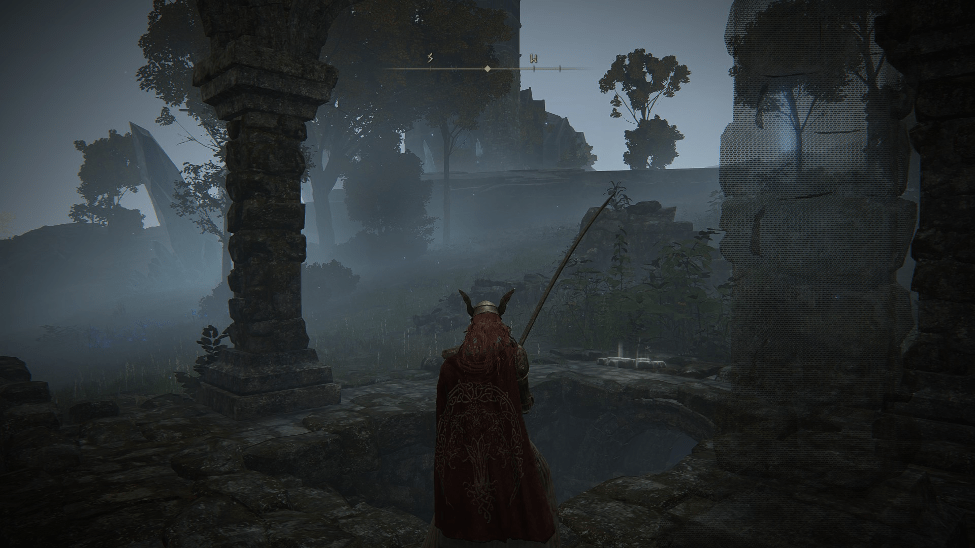 You won't gain much from this particular path. Once Seluvis' puppet, you will be able to purchase Nepheli's ashes from him, allowing you to summon her during combat. Her ashes are decent, but not good enough to warrant taking this option. You will be locked out of both her and Kenneth Haight's questlines, which will bar you from receiving a free Ancient Dragon Smithing Stone, and a second one available for purchase from Gatekeeper Gostoc for 20,000 runes. You'll need these stones to fully upgrade your weapons, and they are quite difficult to obtain. Luckily, there is a better way to continue Seluvis' questline.
Administering Seluvis' Potion to Dung Eater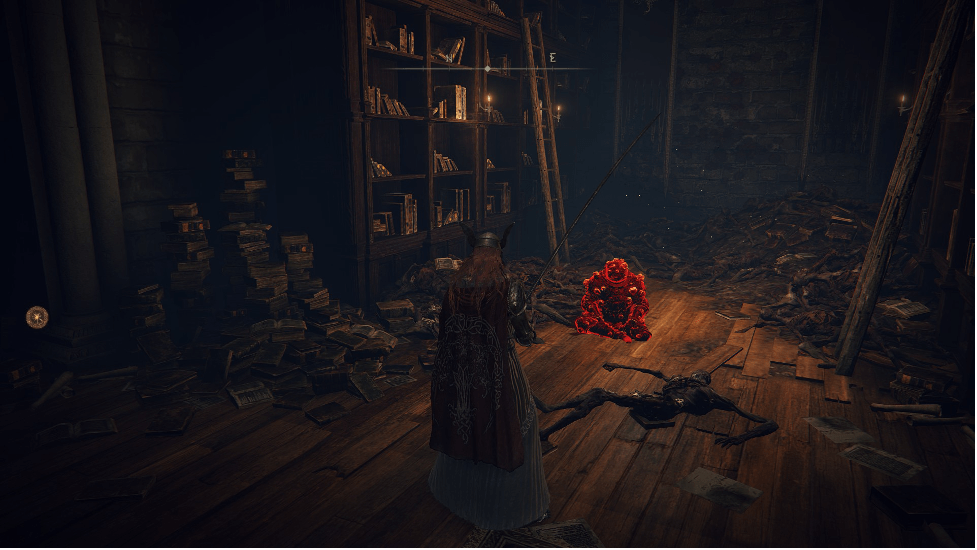 If you want to progress Seluvis' questline without lying to him, you can give the potion to another person – The Loathsome Dung Eater. For this option, you'll need to progress his questline up to the point you find him in the Sewers beneath Leyndell, where he ties himself to a chair and demands Seedbed Curses. Instead of giving him what he asks, you can choose to administer Seluvis' potion. As with Nepheli, Dung Eater will make his way over to Seluvis and become his puppet.
By taking this option, you will unlock Dung Eater's ashes for purchase from Seluvis. This will give you access to his spirit summon, one that is considerably strong indeed. You'll need to speak to Seluvis a little more once you've administered the potion, up to the point where he considers you an accomplice in his activities. At this point, you can ask for a puppet of your own, where Seluvis will request 5 Starlight Shards. Once you give these shards to Seluvis, you'll get your very own Dung Eater puppet.
Also Read: How To reach The Church Of Inhibition
Dung Eater's summon has a great deal of health and some good armor, making it a very survivable battle companion. Alongside this, it deals decent damage and inflicts the bleed status effect. This makes the Dung Eater summon a perfect companion for bleed build users, synergising well with Seppuku or Rivers of Blood.
However, there is something of a tradeoff in taking this option. Dung Eater's questline is required for a particular ending, and by taking this route, you'll be locked out of it. But, that's all you lose. If you aren't making a concerted effort for this ending, I'd say this is the best use for Seluvis' potion, as the spirit summon is just too good to pass up.
Give the potion to Sir Gideon Ofnir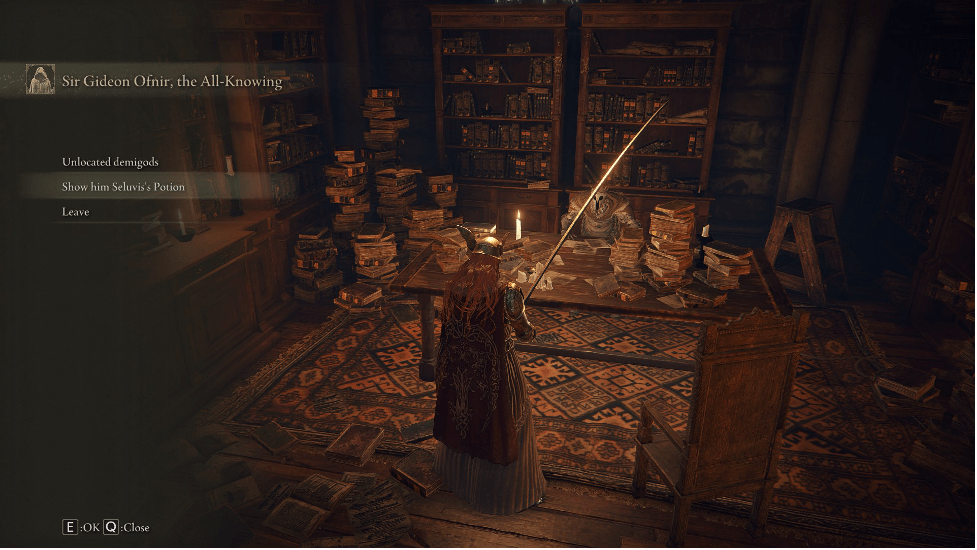 If you'd rather not assist Seluvis with his shady experiments, you can head on over to Sir Gideon Ofnir at the Roundtable. You can explain that you're helping the wizard with his experiments, and reveal Seluvis' potion to him. At this point, Sir Gideon will offer to take it from you and dispose of it. If you take him up on his offer, Sir Gideon will take the potion from you and tell you to lie to Seluvis, saying that the wizard's inflated ego will keep him from suspecting you of any funny business. You can then head back to Seluvis and tell him that you administered the potion to Nepheli, with the wizard being none the wiser of your deception. From here, you can continue his quest as normal.
While this route is good from a moral perspective, it doesn't give you any tangible benefits. You won't lock yourself out of any questlines, sure, but you won't be getting any interesting new items, either. Because of this, I suggest you administer the potion to Dung Eater during your playthrough. He's a nasty creature anyway, so you don't have to feel bad about doing so, and you get a powerful summon, all without locking yourself out of Nepheli's questline and its associated rewards. Unless you intend to get Dung eater's ending, I'd say this is the best option of the three by far.