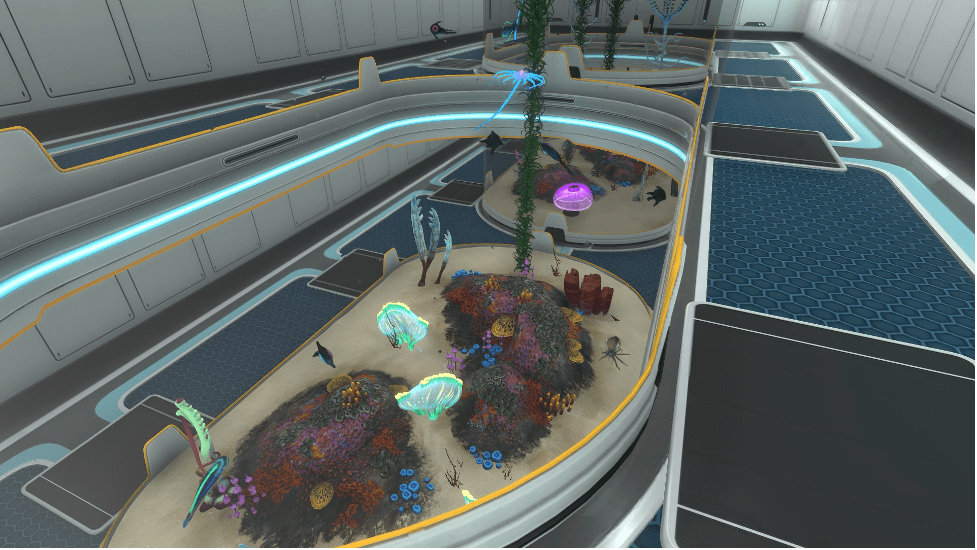 To say that there's a divergent assortment of sea life in Subnautica would be an understatement. There's a whole load of biomes, each with its array of creatures skulking about its depths, with some good, some bad, and some really quite ugly. That said, sooner or later, you'll encounter a creature that you like, and you may well wonder whether you can bring one back to your base for a bit of companionship in this otherwise lonely world.
Well, wonder no more – if you build an Alien Containment, you can do just that! It's essentially a large aquarium, capable of holding a number of creatures inside for your viewing pleasure. If you find some creature eggs, you can even keep the fauna that would eat you just as soon as look at you. The question is, how do you build the Alien Containment in Subnautica?
Building the Alien Containment in Subnautica: Finding the blueprint
As with most buildable objects in Subnautica, you'll need a blueprint before crafting. Unlike other buildables, you won't unlock it through scanning fragments; instead, you'll need to pry it from a data box. Data boxes can frequently be found nearby Lifepods and Aurora wrecks, with Lifepod 12 being a decent place to find the blueprint. If you don't fancy the trip, you could search Degasi Seabases for one instead. Either way you choose, you'll need a Seamoth for the adventure, and you'll find it a lot easier with at least a Depth Module MKI.
Alien Containment recipe
Once you've found the Alien Containment blueprint, you can start building a fauna farm or viewing aquarium in your base. Before building the Alien Containment, you'll first need to construct a Multipurpose Room to house the module. Once you've got a room for your Alien Containment, you'll need these resources:
As you can see, it's fairly cheap to build, so you can have quite a few in your base without any hassle. If you are having trouble with finding Quartz, the material required for Glass, you should check caves nearby your Lifepod and the Grassy Plateaus for a decent amount of Quartz. Failing that, you could always build a Scanner Room plus the HUD chip to mark every piece of Quartz nearby.
💥 Don't Miss These Latest Deals 💥
KOORUI 27 Inch QHD Gaming Monitor
27 inch QHD (2560*1440) display with the DCI-P3 90% wide color gamut brings what you're watching to life in over 16.7M colors
ASUS TUF Gaming NVIDIA GeForce RTX 3070 Ti OC Edition Graphics Card
Nvidia ampere streaming multiprocessors
2nd generation rt cores:
3rd generation tensor cores
Razer Blade 15 Gaming Laptop: NVIDIA GeForce RTX 3070
NVIDIA GeForce RTX 3070 Ti GPU
12th Gen Intel Core i7 14-Core CPU
Next-Gen Vapor Chamber Cooling
What can the Alien Containment be used for?
Once you've built an Alien Containment, you can use it in a few different ways. Naturally, you can use it to house your favorite fauna to improve the aesthetics of your base. While that's nice enough, the Alien Containment can provide more utility than aesthetics, if you're more practically minded.
Alien Aquarium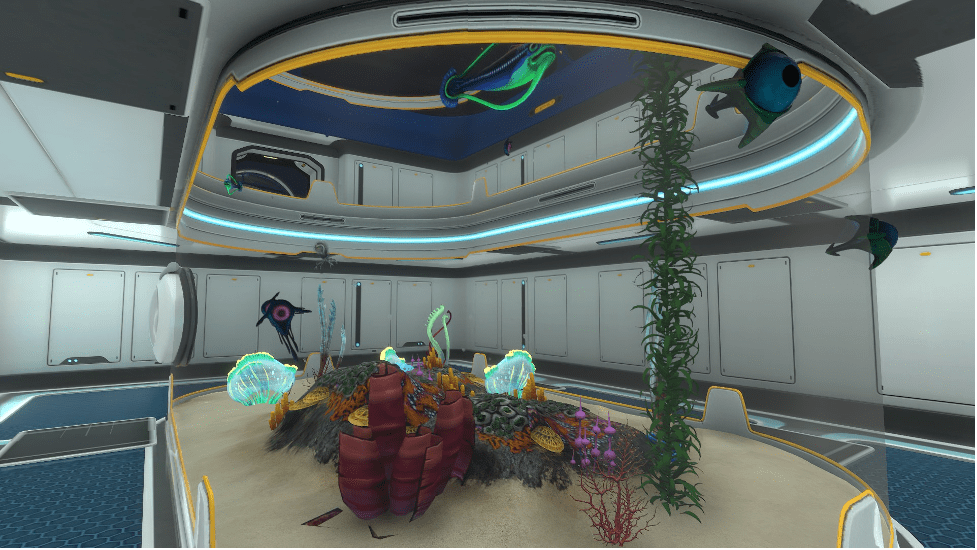 As I said, the obvious choice is to use your Alien Containment as an aquarium. You can do this in two ways; attach a hatch to enter your Alien Aquarium and deposit any creatures you might have in your inventory, or place eggs inside. If you choose the latter, your creature eggs will hatch in a few in-game days, allowing you to rear otherwise hostile fauna that won't bite your hand off or worse.
This will make it much easier to get a scan of a hostile creature, perfect for completionists that would prefer to stay in one piece. What's more, they're mini versions of the wild creature, which brings a side of cuteness to the monstrous sea-Xenos. A nearby Crabsquid has never been less threatening.
Also Read: Best Places To Find Magnetite
Fauna farm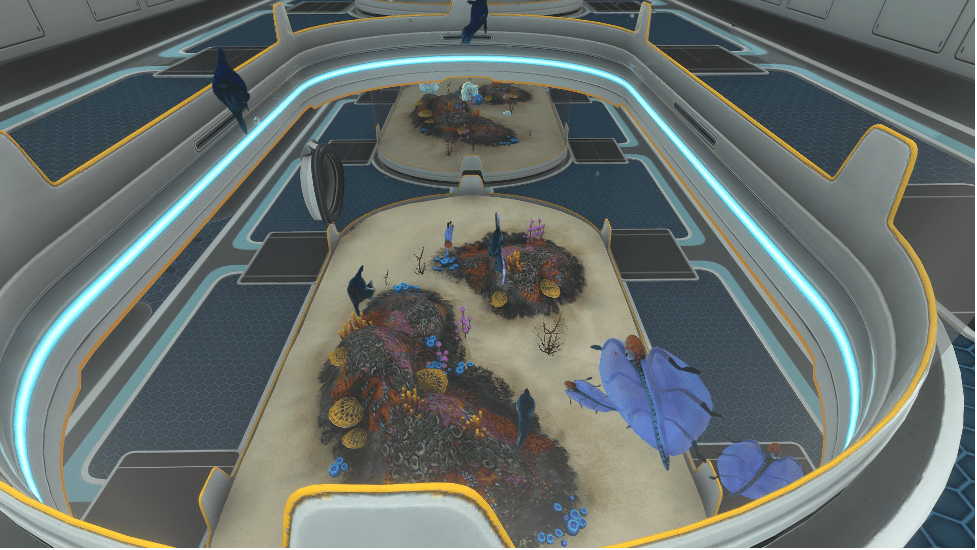 Now for the practical uses. For a steady source of food, you can use your Alien Containment for breeding a particular creature, using it to fuel your exploration of Planet 4546B. To farm a specific creature, you can place two of the same creature into the Alien Containment and wait. Over time, your fish will multiply, with a population cap of 10 creatures in total. If you use something like Peepers of Bladderfish, you can always ensure that you have a nearby source of food and water without having to actively hunt for it.
If you'd prefer another form of sustenance, or you'd rather the thrill of the hunt, you can always use your fish as energy for your base instead of for you. Reginalds and Oculi are especially good for this purpose, as they provide 490 and 630 energy, respectively. All you need to do is let them populate an Alien Containment, build a Bioreactor, and periodically introduce some fish to their new home. They'll provide a great deal of fuel for your base with very little effort.
Flora farm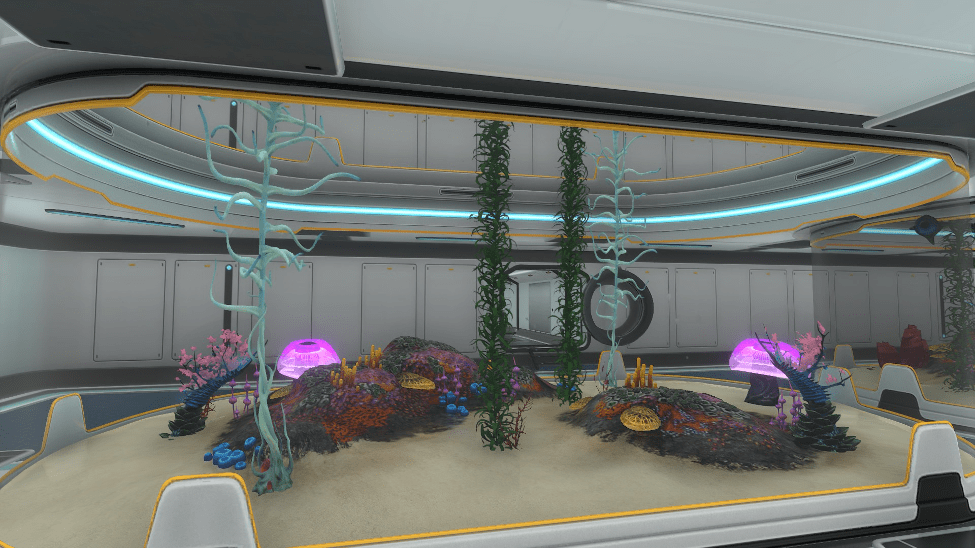 If you don't want to farm fish in your Alien Containment, you can always farm plants instead. This turns your Alien Containment into essentially an interior exterior growbed. Normally, you'd need to venture out of your base to grow certain plants, like Blood Kelp or Gel Sacks, but with this method, you can farm from the safety of your base.
If you'd prefer to farm plants, all you need to do is build a few exterior growbeds in your Alien Containment, then plant your preferred seeds as usual. They'll be ready to harvest within a few days, or you can leave them for aesthetic purposes. You can also put a few fish inside for that authentic aquarium look.
While growing plants look nice and can complement the presence of fish in your aquarium, it also has a similar utility to farming fish. Naturally, you'll be able to harvest whatever it is you're growing, giving you an infinite source of important materials such as Gel Sacks, which are required for Aerogel, or the Creepvines that are eventually needed for Power Cells.
For the larger plants, make sure you stack a couple of Alien Containments, as you'll need the extra room for them to grow. You'll also have a good source of food, but you're better off using indoor growbeds with Marblemelon for that. As with the fish, you can also use your plants to fuel your Bio Reactor, though the Reginald fish is the best fuel overall.